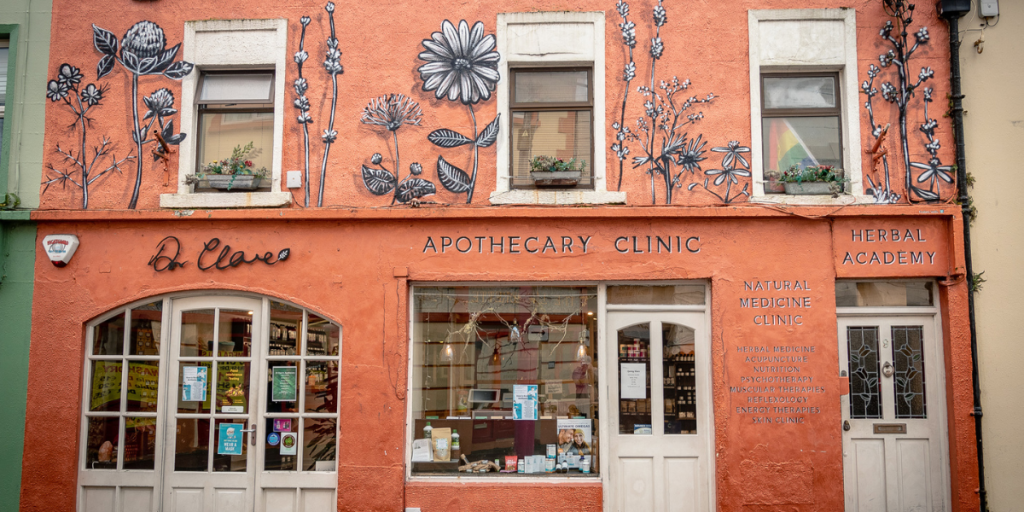 Training on the dispensing of Dr Clare's herbal blends
Dr Dilis Clare is offering training in dispensing Dr Clare's Herbal Formulary
From the 30th April 2011 blends of Herbal Medicines will no longer be available to the Irish public Over The Counter (OTC) due to regulatory restrictions.
After thorough investigation it is apparent that the E.U. legislation THMPD (Traditional Herbal Medicine Products Directive) is not fit for purpose. Traditional Herbal Medicine is characterised by relatively small doses of herbs blended to support normalisation of physiology and relief of symptoms. Dr Clare's Blends are suitable for managing health issues appropriate for OTC management.
It is not possible to apply the regulations to herbal blends of more than 3 herbs. This is because of the limitations of current scientific knowledge. The complexity of sheer numbers of constituents, the fact that active constituents are not yet always known, and often only a small percentage of constituents have been identified is in sharp contrast to single constituent pharmaceutical agents such as Paracetamol.
Stability testing according to single constituent model will not stretch to multiple constituents of herbal blends. They are too complex. Even multi-constituent drug formulas for OTC sales have singly identifiable active ingredients.
e.g. Paracetamol is simple, effective and can be harmful, even within normal clinical dose regimes.
Traditional herbal medicines in Ireland have enormous potential for development as an industry. Currently we are importing Nettles and Dandelion. We also have graduates from the BSc in Herbal Sciences from Cork Institute of Technology. We have the awareness of the value of a sustainable industry, linking natural resources with high value yet technologically simple processing.
In continuing to provide Dr Clare's Herbal Blends is a route to potentially develop these assets in the future.
The THMPD is a directive which has its origin in harmonisation of trade. It did not arise out of concerns for safety or even quality. The regulation that is possible of single or simple blends (up to 3 herbs) of herbs is to be welcomed and it is regrettable that due to the limitations of science there is a road block for the regulation of traditional herb blends.
Paracetamol will remain available in every garage and newsagent. However herbal medicine in traditional doses as herbal blends, according western (also Chinese and Ayurvedic) herbal medicine principles will no longer be available in Health Food Shops or Pharmacies.
In response to these restrictions Dr Clare will provide training to complementary health practitioners, pharmacists and pharmacy staff and health food shop assistants. This will certify that they have the training and qualification to safely dispense herbal blends formulated by Dr Dilis Clare in the context of a consultation.
It is within this context that the THMPD will be implemented at the strike of a clock on April 31st 2011 by the European Union. The regulation facilitates the marketing of single herbs for the most part. These are easier to regulate and can be accommodated within current scientific knowledge, but they are not traditional western herbal medicine.
This supports established industry (which is not yet established in Ireland) and will support the multi-billon sales of the top ten best sellers, reduce herbal medicine to simplistic research and stifle the development of knowledge of our rich flora which we are only now beginning to appreciate anew.
The regulation will drive the provision of herbal medicine underground, as a consequence of these regulations people are likely to purchase through the internet, where there is no accountability and increased likelihood of poor manufacturing standards and poor quality products with no intermediary to ensure the safe dispensing of these products.
The Department of Health has consistently failed to regulate standards required of Medical Herbalists. This is despite consistent lobbying for more than ten years by organisations of Medical Herbalists. In the report by The Scientific Committee on Herbal Medicines (c.2003) under the Irish Medicines Board (IMB) it was highlighted that the regulation of herbal medicine would be compromised in the absence of regulating the profession of Herbal Medicine.
HETAC (Higher Education and Training Awards Council) has a moratorium on the validation of courses from the complementary and alternative medicine sector. This has arisen partly because there is a vacuum within the context of validating a course in the absence of a professional regulating body. Quite rightly in the absence of professional regulation there are concerns that an accredited course will become the accepted standard where this role belongs to the regulating professional body.There cannot be a professional regulating body in the absence of regulation. The role of the IMB is to enforce the regulations, all herbal medicines which have not been approved through the regulatory process will removed from OTC sales.
Dispensing blends of herbs in traditional doses continues to make available some of the herbs that have been available to the public for many years.
Links: Alliance for Natural Health.www.anh-europe.org search the site under Frequently Asked Questions – (needs to be written out in full).
The same arguments for Ayurvedic and Chinese Herbal Medicine apply to Western Herbal Medicine. 
By training in the safe dispensing of Dr Clare's Blends there is an opportunity to continue to make traditional western herbal medicine available to Irish citizens. The products are blended by Dr Clare's team in Galway. The tinctures are imported from companies in the UK which are regulated to standards of Good Manufacturing Practice. There are opportunities to grow herbs and develop sustainable industry. The market in Germany alone for natural medicines was €2.3 billion in 2004 (www.cbi.eu ).
ONLINE TRAINING AVAILABLE on DR. CLARES ACADEMY OF HERBAL MEDICINE