Mary Kenny Massage Therapist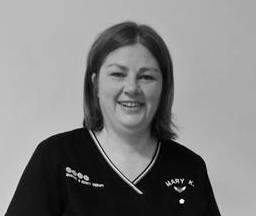 Introducing Mary Kenny – Your Gateway to Holistic Wellness
Are the stresses of the modern world taking a toll on your body and mind? Look no further! Mary Kenny offers a diverse range of holistic massage services that cater to your specific needs, from rejuvenating relaxation to invigorating sports massage. With Mary's expertise, you can not only achieve a state of profound relaxation but also enhance your overall well-being, leaving you looking and feeling your absolute best.
Specialised Massage Treatments to Suit Your Needs
At Mary Kenny's wellness sanctuary set up in Dr Clare Clinic in Sea Road, you can indulge in a plethora of specialised massage treatments, each designed to address your unique requirements. Experience the soothing bliss of an Indian Head Massage, where tension and worries melt away, leaving you with a sense of tranquility. Expectant mothers can find solace in the gentle touch of Pregnancy Massage, providing relief and comfort during this precious journey. Aromatherapy Massage offers a captivating fusion of fragrant essential oils and expert strokes, enhancing relaxation and harmony.
For those seeking a more invigorating experience, Mary's Sports Massage caters to athletes and active individuals, targeting specific muscle groups to enhance flexibility and alleviate muscle tension.
Book Your Appointment Today
Ready to embark on a journey to holistic rejuvenation? To reserve your session with Mary, simply call 0879641246. Her warm and caring approach ensures you'll receive personalized attention and treatments tailored to your unique needs.
Contact Us
Need more information or have specific queries? Feel free to get in touch via email at info@edenmassagegalway.com. Maryis dedicated to providing prompt and helpful responses to all your inquiries.
Gift Vouchers – The Perfect Gesture of Wellness
Looking for the ideal gift for a loved one? Consider the gift of wellness with our exclusive Gift Vouchers. Give someone special the chance to experience the profound relaxation and revitalisation that Mary Kenny's massages offer.
Cancellation Policy
We value your time and ours. If you need to reschedule or cancel your appointment, we kindly request a minimum of 24 hours' notice to accommodate other clients.
Join Mary Kenny on a journey towards holistic well-being. Experience the transformative power of expert massage therapy that nurtures your body, mind, and soul. Book your appointment now and unlock the path to inner harmony and a radiant sense of self.